This
poster
is in my Etsy shop.
The excitement and madness of the holiday season is in full swing around here. I find myself taking little moments here and there to collect my thoughts and calm my mind. So much to do, so little time. Still, I have a lot to look forward to this weekend. Like a visit from my parents tonight, a trip to the beach tomorrow and putting up our tree on Sunday. It's the little things right?
What are your plans?
Here are some great links from around the web to get your weekend started right.
I made a photo book
and you can get 10% your order at
Pinhole Press
if you want to make one too! Just enter CiaoChessa for a discount at checkout.
Are you on
Twitter
? Follow my
photography list
. A lot of goodness there.
The deadline for purchasing anything in my
Etsy shop
so you can receive it by Christmas is approaching.
Party dressing
in New York and Paris.
Heineken (a personal fave) is having a contest
to find a new design for its bottles to celebrate a BIG anniversary.
Lucia's nursery is featured on the
Bon Bon Rose Girls
this week!
Old loves
. This is too good. Found via
Cup of Jo
.
Speaking of Cup of Jo, Joanna's 2011
gift guide
is here and it's awesome.
I want to take a
class
this winter. I'm not sure in what yet but I'm feeling like I want to learn something new. I'm open to suggestions...thoughts?
Bloggers have to act like journalists if they want to be treated as such
. Makes sense to me.
World AIDS Day
in photos.
Gorgeous...and I mean GORGEOUS (and breathtaking, inspiring, evocative...) photos by
Miles Aldridges on Nowness
. And speaking of Miles Aldridges, you can now buy some of his works over on
Art.com
. Amaze.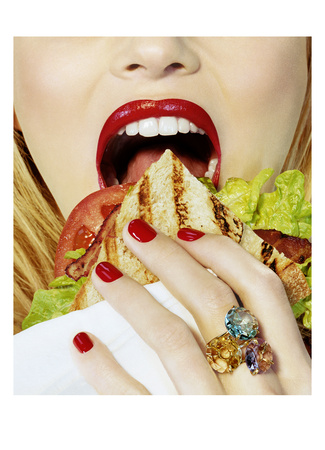 Conde Nast, Trunk Archive
Art.com